Approved plot for sale  – 900 sqft measuring Approved plot for sale on Bangalore NH4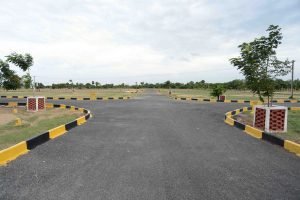 Approved plot measuring 900 Sq.Ft. at Sriperumbudur for sale on the Bangalore NH4. The approved plot for sale is in "Sri Sathya Sai Nagar", Layout. It is an approved layout with Approval No. 33/2011 and layout is fully developed and Promoted by a public welfare society, "Sri Raghavendra Tamilnadu Employees and General Public Welfare Society". It is a government registered society running under "No Profit – No Loss" Basis, therefore purchasing plots under our society is considerably low when compared to other promoters in Tamilnadu.
The layout is fully fenced with compound walls and 40 feet wide and 30 feet wide Internal tar roads are laid within the layout connecting the plots. Separate lands are allocated for Parks, Schools and Shops within the layout for Customers facility. The added advantage of our site is that it is on the National Highway and the villages and houses are present at the back of our site. Close to Schools, Medical and Engineering colleges, Shopping Centre, Hospitals and hotels.
Our layout is situated next to the Chennai to Bangalore National Highway at a distance of just 200 meters. And our site is seen through from the National Highway. We assure twice the investment return within 3 years, as the upcoming Green Field Airport has gradually increasing the value of the land in Sriperumbudur to a higher level day by day.
[contact-form][contact-field label='Name' type='name' required='1'/][contact-field label='Phone' type='text' required='1'/][contact-field label='Email' type='email' required='1'/][contact-field label='Website' type='url'/][contact-field label='Comment' type='textarea' required='1'/][/contact-form]
Call us on +91-9994287060
Mail us : home4chennai@gmail.com
Website : http://bestsquarefeet.com/